Doubling Down on Doubling the Pell Grant
As the nation rebuilds from the economic downturn brought on by COVID-19, current and incoming students will require additional financial support to help pay for college. One clear option is to double down on the one mechanism we already have in federal law designed to target funding to low-income students by doubling the maximum Pell Grant award available to students.Pell Grants are the foundation of our national investment in higher education, and they help pave the way for nearly 7 million low- and middle-income students to attend and complete college. However, the current maximum Pell Grant covers less than one-third of the cost of attending a four-year college. To boost the grant's purchasing power and help make college an option for more students who are currently in crisis, Congress should invest in and protect the Pell Grant program.
More than 80 groups support doubling the Pell Grant
👇
Click here for more resources about why doubling Pell matters!
We recommend exploring the map in fullscreen mode. ☝
Why the Pell Grant Matters
The Pell Grant program is the foundation of college aid for over 7 million students annually, including nearly 60 percent of Black students and nearly half of Hispanic students.
Who Benefits from Pell Grants ?
Most Pell Grant dollars go to students and families that make under $40,000 a year, a group currently facing a disproportionately high unemployment rate.
Strengthening the Pell Program
Congress must immediately act to double the maximum Pell Grant award and set the Pell Grant to automatically adjust for inflation each year.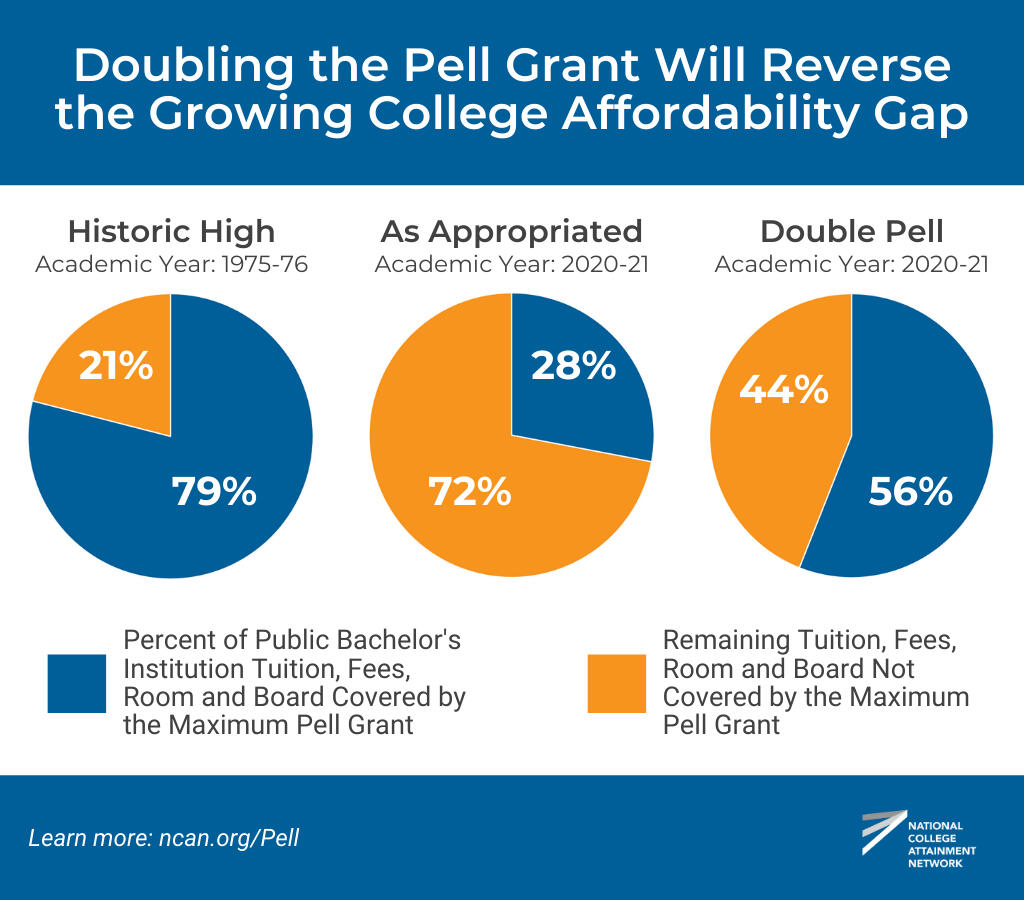 In the News
Add your voice to the chorus of support,
and let everyone know you support #DoublePell!
DYK the current maximum #PellGrant covers less than one-third of the cost of attending a four-year college? Let's double down on doubling Pell! www.doublethepell.com #DoublePell
Add your name to the list of those in support of doubling the Pell Grant!
👇
Speak Directly with Experts Working to Make this Happen
Matt Owens
Association of American Universities (AAU)
matt.owens@aau.edu

Lindsey Tepe
Association of Public and Land-Grant Universities (APLU)
ltepe@aplu.org

Viviann Anguiano
Center for American Progress
vanguiano@amercanprogress.org

Janette Martinez
Excelencia in Education
jmartinez@edexcelencia.org

Julie Peller
Higher Learning Advocates
jpeller@higherlearningadvocates.org

Mamie Voight
IHEP
mvoight@ihep.org

Wayne Taliaferro
Lumina
wtaliaferro@luminafoundation.org

Clare McCann
New America
mccann@newamerica.org

Carrie Warick
National College Attainment Network
warickc@ncan.org

Reid Setzer
The Education Trust
rsetzer@edtrust.org

Michele Streeter
The Institute for College Access & Success (TICAS)
mstreeter@ticas.org

Tamara Hiler
Third Way
thiler@thirdway.org

Lodriguez Murray
UNCF
Lodriguez.Murray@uncf.org

Kyle Southern
Young Invincibles
kyle.southern@younginvincibles.org